I don't know if many of you saw this on Monday (the 6th), but Teh SiBlog's post,
Best Bacon Ever!
, was posted on
The Consumerist
. The Consumerist is one of the top 50 blogs in the world, according to Technorati's authority ranking, and is part of Gawker Media, who is home to some of the most important blogs in the world including
Gizmodo
,
Kotaku
and
Lifehacker
...Needless to say this was very big for us. The post caused pageviews and visits to grow exponentially as well as visitor comments. Then a few hours later the unthinkable happened....we got
Dugg
! I have been a Digger for a few years now and have always dreamed of either having a story from my blog hit the front page of
Digg
or even a story that I found make it to the front page. The post from The Consumerist not only got Dugg to the front page but it eventually hit the #1 Digg spot late Monday night. Here is a screenshot of it sitting at #1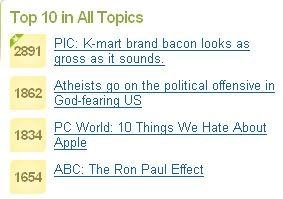 After the post hit the front page of Digg the visits started to skyrocket and continued through the night. The post has been Dugg over 3,400 times and The consumerist got hit over 115,000 times. Before all this craziness we were sitting at around 5,200 total views for Teh SiBlog....24 hours later we are sitting at more than 15,500. We are hoping that this catapults us to a new level of blogging. What a day!
Links
-
Teh SiBlog - Best Bacon Ever!
-
The Consumerist - This Kmart Bacon Is Excellent, But Could Use Some More Fat
-
Digg - PIC: K-mart brand bacon looks as gross as it sounds.