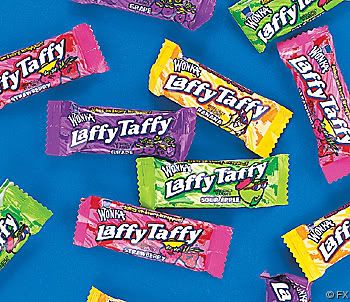 I usually try not to whine too much but I every once in a while I gotta, so....
I am sure you all have been noticing this over the years.....What in the hell has happened to Laffy Taffy! Don't get me wrong the candy itself is still the teeth rotting sugar putty it have always been, but what has happened to the jokes!? I remember buying this candy solely for the corny jokes that made me laugh. The jokes were classic, they made sense, they were funny and they helped sell the product. Now I read the jokes and I wonder if I have gone stupid because I don't understand them! Now they don't make sense, they are not funny, they make me angry and they just plain suck. And I know these jokes are now sent in by sweet innocent little kids buuuuuuut.....they need to be fired, along with the marketing staff of Wonka candy. I know I am not the only one who has noticed this because I have people tell me all the time that the jokes suck. This has been going on for years and getting exponentially worse! Let me give you an example brought to us by little Shannon K of Conshohocken, PA -
What do you call a bird with glasses?
*drumroll*
A Bird Watcher.
Get it? Nope, sure don't. I read this joke and the only thing I can think of is the sound Scooby makes when he is confused! And I am sure Shannon K is a great little girl (or boy) and is really smart, but she ain't a good joke maker! Wake up Wonka! Your jokes suck! Bring back the best part of Laffy Taffy! You are losing your rep!