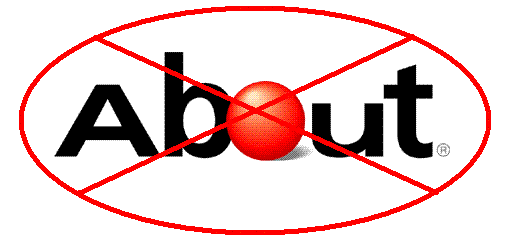 Every now and then I get up on my soapbox and bitch and moan about something that pisses me off....this post is no different
So today I was searching for some information on Google just like I do everyday of my life. I got my result set and started opening all the links that looked promising (in other tabs) as I went down the list. Once I got through the first page of Google's results I decided to start going through the tabs that I opened. First tab, about.com (aka crap). Second tab, about.com (aka shit). Third tab, about.com (aka kaka). Fourth and fifth tabs, not about.com and finally some good and useful information. I don't know if any of you have stumbled across or know anything about about.com, but it sucks! I have never, and I mean NEVER, found anything useful on an about.com page. Nothing pisses me off more than ending up on these pages. I usually pay attention to the actual URLs before I open them but sometimes when I am not paying attention the shit-ass site catches me off guard. Make no mistake, about.com is a parasite on the web that needs to be permanently blocked by search engines.
Lets do a little example,
Google Search - TV Wakeboarding Tournament Schedule
. Hey guess what the first two hits are? Yup you guessed it, About.com. Let's go ahead and take a look a these two links. The first link,
TV Tournament and Event Schedule, Waterskiing and Wakeboarding on ...
looks amazing when you read the title but once you get the site you realize that it is complete shit. The link doesn't even have a schedule of any sorts. It does direct you to a site that could possibly have a schedule, but after visiting that site too you realize that it sucks just as bad as the first. Thanks about.com! The second link
Tournament TV Schedule - Waterskiing/ Wakeboarding Archives
doesn't look nearly as good as the first link but it may give some insight on channels, other sites, etc. Nope, it is complete kaka showing you absolutely nothing! Thanks again about.com for wasting my time. A few more down the list and about.com shows up again, but I am not even going to open this one up because it is obviously not what I am looking for....but it is a link a ordinary user might open. Then guess what!? The next two links actually have some useful information about a wakeboarding schedule on TV!! Hooray!! It sucks that you have to wade through all the about.com crap before you can actually get some results that you were searching for. This one was just a quick and simple example but may are worse.
So this is more of a plea to Google and other search engines. Please block about.com from your search results so that this horrible parasite on the web can die!