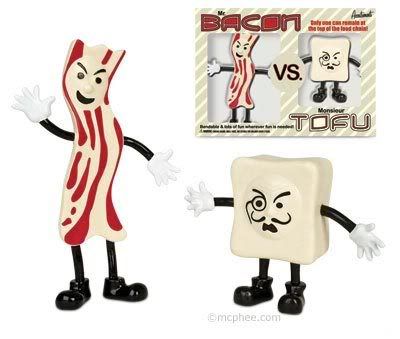 Mr. Bacon and Monsieur Tofu are fired up and ready to rumble, but only one can remain at the top of the food chain! Mr. Bacon stands 5-5/8" tall and fights for everything salty, greasy and meaty. Monsieur Tofu is 3-3/8" tall and represents all things made of coagulated soy milk. The winner gets eaten for dinner! Each vinyl figure has bendable arms and legs.
Taken from McPhee
We all know that Mr. Bacon could thoroughly kick the shit out of Monsieur Tofu! Three reasons why:
1.
Mr. Bacon consists of manly meat, not some sissy coagulated milk product!
2.
Mr. Bacon is delicious, fatty, salty and clogs up arteries!
3.
Monsieur Tofu is French and we all know they never fight or stand up for anything!