So I decided to create an image out of some of the stuff we post about here....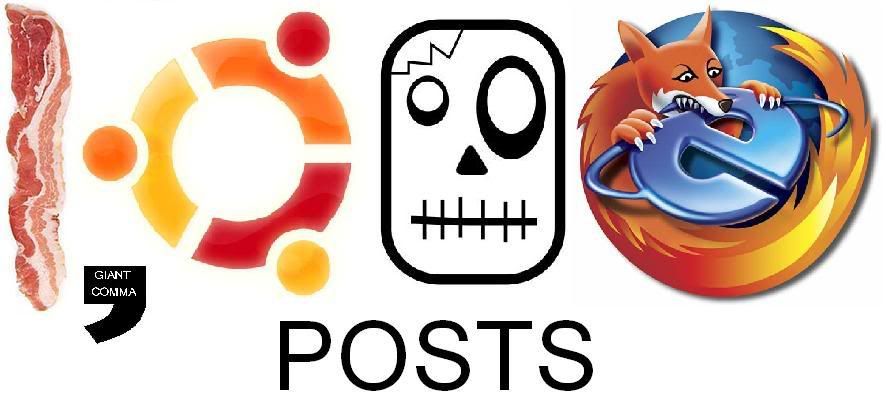 Wow! When I started this in late November of 2006 I never thought that the blog would reach 1,000 posts! What started out as an experiment quickly turned into a great hobby and pastime that can hopefully continue for sometime.
In honor of the 1,000 post I thought we would go through some of my favorite and most popular areas of the blog starting with the first post....
Post #1
was obviously my first post on November 27th 2006. It was short and simple and here it is....
Being in the technical industry I have always tried to act like I am on top of what is going on in the world of computers and technology. So with that being said, this is my attempt with the web log. I honestly don't know what the blog I am doing (bad joke), but I think I might be able to figure it out. Anyways....I hope you enjoy!
The next post is really the blog's claim to fame.....
Best Bacon Ever!
was post to the Consumerist and made it to the #1 spot on the Digg homepage and still holds the #1 spot for most diggs by a bacon post. This post is responsible for really getting this blog out to others outside of myself and friends.
The
Chuck Norris Label
has brought more traffic to the site than any other label. The label includes the Chuck Norris videos, pants, and most importantly the jokes! Thanks to Walter for this label as most of it was from him!
The last post I would like to recognize is the
Ubuntu (GNOME) Cheat Sheet / Keyboard Shortcut
post. Lately this post has actually been bringing in more traffic than any other post and sits in the #2 spot with 5,000+ pageviews.
Thanks to all the posters on this blog especially Walter! And most importantly thanks to all the readers and visitors!