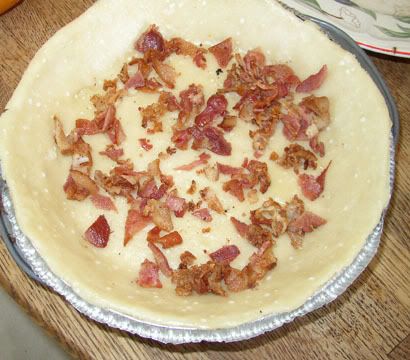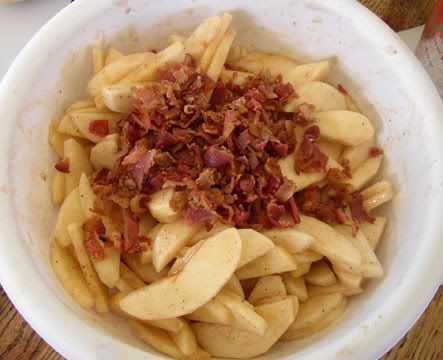 Bacon Apple Pie

Ingredients:

* Pastry for 9-inch pie, uncooked
* 6 cups apples, peeled and cut into thin slices (about 2 1/4 lbs or 8 medium apples)
* 3/4 lb uncooked bacon
* 3/4 cup sugar
* 2 Tbl flour
* 1/2 tsp ground cinnamon
* 1/4 tsp nutmeg
* 1 Tbl milk
* 1 Tbl sugar

Directions:
Fry bacon in skillet until slightly floppy. Drain on paper towel. Chop bacon into 1/2" pieces. Line bottom of pastry-lined pie plate with a layer of bacon, reserving the rest.

In a large bowl, mix together 3/4 cup sugar, flour, cinnamon, and nutmeg. Add apple slices and remaining bacon pieces. Toss to coat.

Transfer bacon-apple mixture to pastry-lined pie plate. Place upper crust on pie plate (bonus points for a lattice, double bonus points if you can show me a bacon lattice!) and seal. Cut slits in the top if you are using double crust to allow to vent. Brush top with milk and sugar. Bake at 375 F for 1 hour or until bubbly.

Cool on a wire rack. Serve with smoked cheddar cheese slices.
Source