Those who like to really customize their Firefox know all about the "
about:config
" page. Well after downloading and installing Firefox 3 I decided to visit the about:config page and found that it had a nice and funny warning splash page in place...

It made me smile so I thought I would Google it. Upon Googling it I found some other Easter Eggs. The first one is "
about:mozilla
" and here is the page/message that you will get...

The last and by far my favorite is "
about:robots
". This Easter egg takes you to a splash page where robots greet you. The best part of this page is that the title is the infamous command "Gort! Klaatu barada nikto!" from
The Day the Earth Stood Still
(and referenced by a handful of others including
Army of Darkness
). Here the pages for this...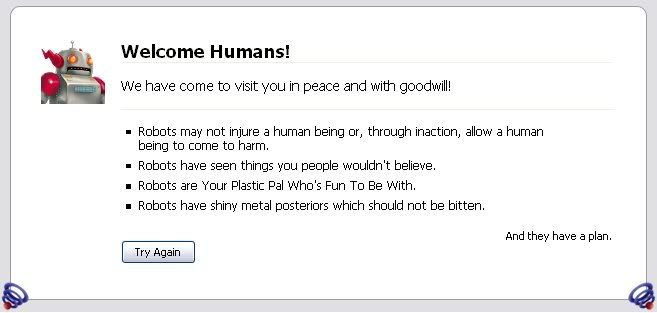 ....and after clicking the button once....
....and then after you click the button a second time it disappears