I personally am a big Gatorade fanatic. I wrote a paper on them in college and since then I have been very interested and loyal to the brand. They perform a lot of research when formulating their drinks and are always are coming out with new flavors, new formulas, etc which makes them very hard to compete with. In short I love Gatorade.
Anyways, about 2 years ago when I was coaching wrestling, I was speaking to some of the wrestlers about the Gatorade powder mix. I was telling them about how much I like it, how much I use it, bla bla bla and then it occurred to me that they should provide the powder in small packets for athletes on the go. Since then I have been waiting for them to come out with this product and now that it is out I must say that I am pumped. I almost always have an old empty Gatorade bottle in my truck or my Camelbak/Nalgene water bottles on me so now I can make a quick and easy refreshing bottle of Gatorade on the go with a little water and a
Gatorade Powder Stick
!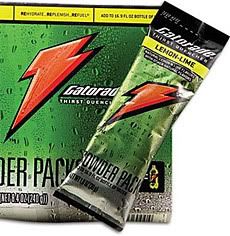 The
Gatorade Powder Stick
pack on Amazon costs $4 and comes with eight of these little badboys that are designed for the 16.9 oz bottle but I like my Gatorade a little watered down so this will be perfect for a 32 oz. bottle for me. Enjoy!